Split-Fire Sales is dedicated to manufacturing high quality, and highly productive products that set themselves apart from others in the market; through their performance, and the personal customer service provided from a family owned and operated business.
Split-Fire has built its business based on its integrity and the family values that guide its business principles to this day. Split-Fire products are always "Quality Built for High Performance".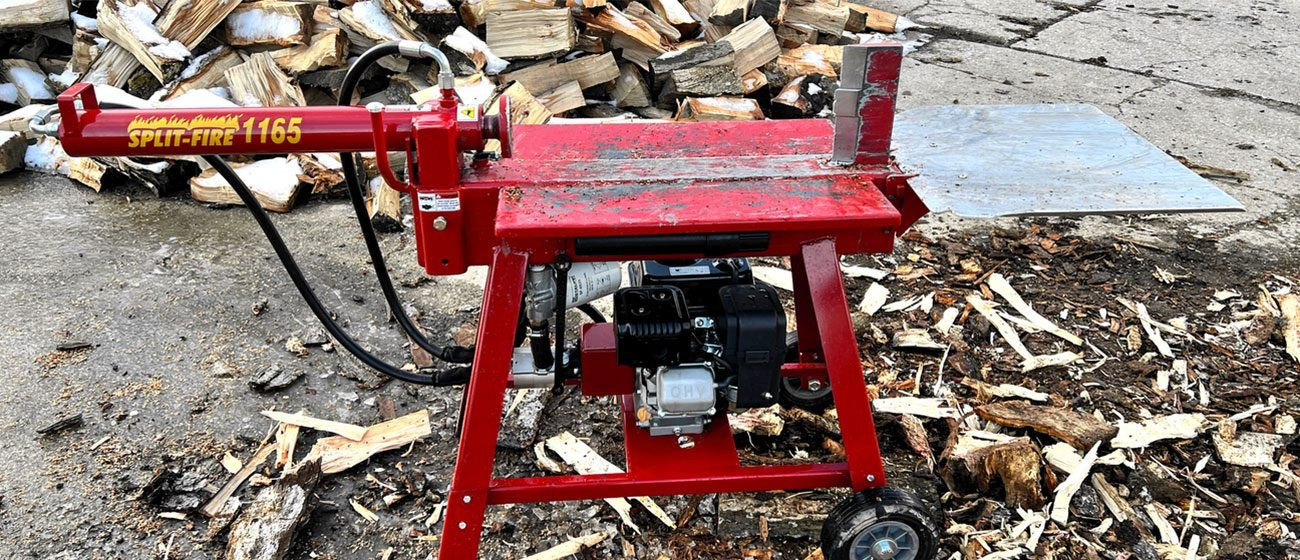 1165 Log Splitter
Compact. Efficient. Durable.
The 1165 is a quality tool that is perfect for feeding your summer campfires and processing your winters worth of firewood.
This log splitter is ergonomic, and the quick cycle time and auto return won't keep you waiting.
3 power options to choose from, including electric, this log splitter will be a perfect fit for your needs. When you're done, fold it up and slip it away into the corner of your garage or shed.
Log Splitter 4490
The 4490 is Split-Fire's largest and most powerful hydraulic wood splitter that has been proven decade-after-decade in commercial and industrial use. The 4490 can handle just about any size log. Utilize its interchangeable 2-Way knife for stringy knotty logs and 4-Way wedge for straighter grain logs. The 4490 has a longer fully reinforced frame, larger log stops, and heavy duty 4-way slider compared to the 4290 log splitter. With 32 tons of splitting force and a 2-way splitting action, the 4490 is a pure production machine.
OPTIONS
24" Nose Hitch Extension
4" Drop Hitch
8" Drop Hitch
Swivel Jack
Fenders (8″ Tire)
Fenders (12/13″ Tire)Heavy Duty Suspension Tail Lights
LOG LIFTER & TABLE
Select Stroke Length to Unlock Options
Standard Shelves24" Stroke Log Table.24" & 30" Stroke Log Lifter
32 Ton Rated 2-Way Split
Safe & Efficient Log Stop Design
Log Lifter Compatible 1-13 Second Cycle Time
Interchangeable 4-Way Wedge
Split Fire 3465
The Split-Fire 3465 gas powered log splitter
is the perfect machine for large/medium farms .
It has the splitting force to split large 36" diameter logs.
The Split-Fire also Has an interchangeable 2-way / 4-way wedge
. The Split-fire 2265 is the perfect
gas-powered log splitter for homeowners,
small farms and cottages
that are heating the home, workshop, or barn.
Why wait for a return stroke on a conventional log splitter?
The fast cycle time utilizing a 2-way split and compact design make a day of splitting wood safe, easy, and enjoyable.
10 Ton Rated * Push Through Design * Auto Retract Cycle
Compact Storage 4 Second Cycle Time
18 Ton Rated, 2-Way Split,
Safe & Efficient Log Stop Design,
24" Stroke, Log Lifter Compatible,
6-8 Second Cycle Time
20-22 Ton Rated 2-Way Split Safe & Efficient Log Stop Design Log Lifter Compatible9-11 Second Cycle Time Interchangeable 4-Way Wedge